The Picniche toolbar is a firefox plugin designed to help microstock contributors keyword and upload their images. There are two different versions, one aimed at buyers and one aimed at photographers (contributors). The contributor bar currently supports uploads to 6 of the top microstock agencies:
The toolbar will optionally monitor your sales and notify you when a sale is made, access to this data from the agencies is via the web browser so you need to be logged into each site or save your passwords in your browser to receive notifications, istockphoto is included for sales tracking but not supported for uploads.
Once installed the toolbar creates a toolbar and a small button

on your browser which operates a collapsible sidebar showing Keywording, FTP and Notifications. There is also a configuration tab added to the firefox tools>options dialog.
Optional workflow improvements are included that are designed to streamline uploading photos by removing a few repetitive tasks from Fotolia, Dreamstime and Shutterstock.
I currently don't use the toolbar to upload, I upload to a few more agencies than supported so use a different FTP tool, but if you only submit to the agencies listed then I can see this being a very convenient plugin. The upload feature works like an 'mini FTP' client built into your browser, read our overview of FTP for microstock photographers for details on how this works. I do have the toolbar installed for its useful notification feature which monitors a series of microstock blogs/websites (including this one) and displays a small message when a new post is made.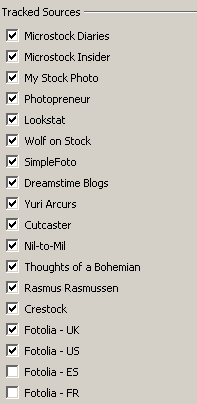 I also use the keywording suggestion tool occasionally (when I'm completely stuck) a quick example is shown below:
A user manual for the toolbars is located at picniche.com/toolbar/help.aspx and there is more information about both buyers and contributors tool bars along with download links at picniche.com/toolbar.
Related Posts:
Uploading Microstock Images (overview of the different methods of uploading images, illustration and videos for sale)