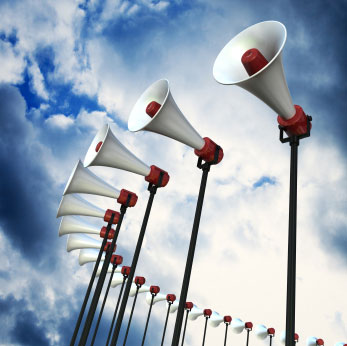 Advertising on Microstock Insider
Microstockinsider offers a highly targeted demographic of photographers, illustrators and digital artists who are interested in selling their content on stock photography sites. The majority of visitors are interested in our beginners guides but our most valuable traffic is the professionals and serious microstock contributors who come to view our workflow and advanced guides.
The site offers visitors with regular news updates and extensive reviews of leading agencies in the microstock industry.
Contact is for details of our site sponsorship packages and banner advertising which starts from $70 pcm
Available Options
Banners Ads Right Sidebar
(160x600) approx ~15,000 impressions monthly
Your banner displayed on the right sidebar on every page of the site except for error pages
RSS, Print and PDF footers
(468px × 60px or smaller, or text message c/w link) $40 pcm - 1 of 1 available
Tailored to meet your requirements, your message will be at the bottom of all new RSS posts, and at the bottom of every document that visitors take away from microstockinsider using the printer and pdf version options. Due to set-up required for this there is a minimum 3 months period.
If you are interested in advertising in a space which is already occupied but marked as being available at a future date please do contact us stating your intentions otherwise we may sell that space to the existing advertiser for another period.
Statistics and Demographics
Microstock insider attracts a niche readership of photographers and illustrators who have interests in selling their work online and related products. Photographers range from hobbyist to professional photographers.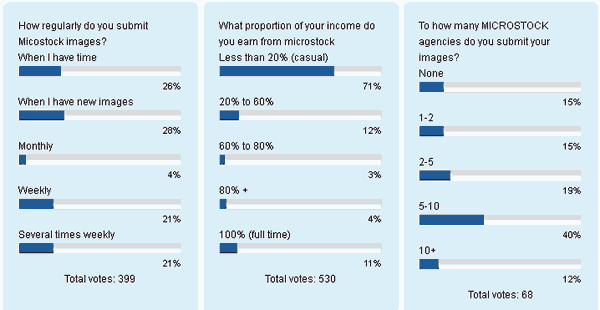 Mailing List Demographics
(of 739 users who chose to provide optional information) A subset of site visitor demographics.
Photography Experience / Profession Distribution
(Parent and Trade Professions should be assumed to contain large statistical error due to small sample size)
Portfolio Size / "Microstock Agencies Submitting To" Distribution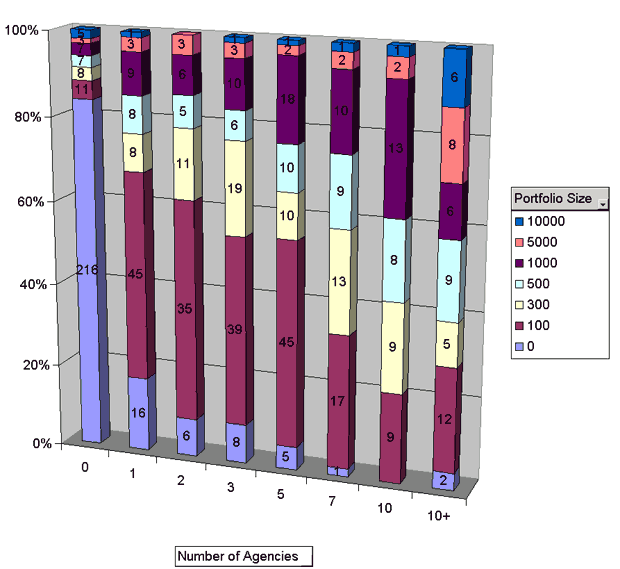 Large Portfolios at 0 Agencies = macrostock/landscape/portrait/other photographer not yet currently using microstock(?). 0 Images at 10+ remember that 0 will include photographers with 0-99 Images. Overall trend of larger portfolio = more agencies can clearly be seen.
Acceptance Policy
We accept simple 'slow paced' animation loops in banner ads but will reject any animated ad which contains flashing text or graphics.
We reserve the right to accept only advertisers which we feel are relevant to visitors to microstock insider, and will not accept any agency or service we feel has terms which are unfair for photographer and contributors.
We do not accept invitations to perform a paid review of a new website. New and existing sites are reviewed on a set of defined criteria.
Contact us and discuss the details...