Our Review:
123rf (123-royalty-free) has been a slow but steady earner for me for more than 10 years now. Before the April 2010 update to their site sales results were rather sad considering the time the site has been around and the otherwise good looking traffic and image collection the site had attained in that time. Since the makeover which brought in several new social features image sales seem (very cautiously) to have improved.
In January 2012 123rf announced they would be changing their current offer of 50% commission in favour of a tiered system starting at 30% and extending up to 60% based on the value of images downloaded from your portfolio in the past 12 months. These changes came into effect on January 2013.
Site Features
123rf now has all the site features you would expect of the major players in the microstock industry, good search, lightboxes, international languages sub-sites, subscriptions, phone and live chat support etc.
A Unique Collection
Like istockphoto, fotolia and others 123rf have their own premium collection of images called EVO. The EVO collection is handpicked by editors (invitation only) and has 4 different price tiers between 5 and 40 times the credit cost of a standard image.

Tips
123rf allow you to mark 5% of your portfolio as favorites (under 'faved' in your account). These images are given better search rankings, this allows you to showcase some of your favorite images or attempt to steer buyers towards images you want to sell e.g. your favorite from a batch of similar concepts.
Conclusion
I've re-written this review since the April 2010 update to 123rf. The previous review was somewhat negative, I think deservedly so. Stagnation seemed to have set in and the other sites at the 'lower end of the big 6' were certainly leaving 123rf far behind. Since the new site design launched things have drastically improved, if not in sales certainly in site usability - 123rf appears to have 'turned a corner'. The site is clean and professional, not just visually but in features like 'your personal account manager' and the general language that the site now uses (the old version of the site had phrases like "Sit back, Watch the Moolah roll in" on the photographers sign-up page).
While 123rf is not going likely to become your best earner in the near future, over the years 123rf have proved their reliably to perform and should continue to do so for the foreseeable future.
I recommend you upload to 123rf. 123rf also represents great value as an image source for buyers.
As of 2015 123rf has slipped down to 9th place in my earnings rank, overtaken by strong competition from photodune and depositphotos - I think overtaken is the key phrase here, I don't think 123 are going backwards, it's simply the cometition is getting better at the game.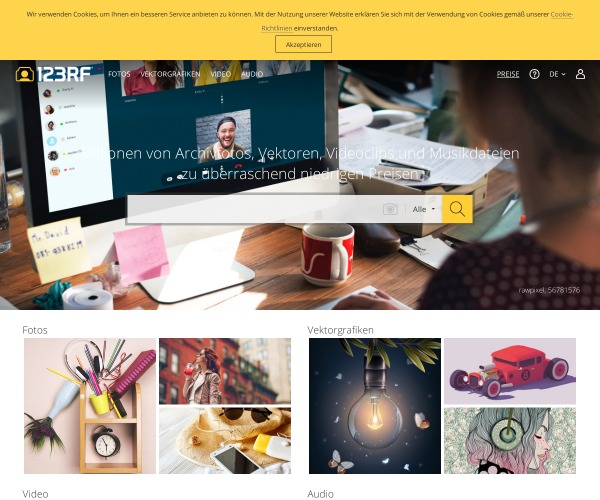 For more details see 123rf.com