Stockperformer is an online microstock sales analysis tool. It was launched to select photographers at microstockexpo late last year, and is now available for general use. There is a 14 day free trial available. The system provides analysis of your sales on the top 4 agencies, istockphoto, shutterstock, fotolia and dreamstime.

I've dragged my feet a little in getting this review online; stats analysis is not the sexiest subject to write about and reviewing a new tool like this tends to make me think of hours creating image groups and pasting in account details for agencies. WRONG! Stockperformer is amazingly simple to use! If you have used microstock stat/sales analysis tools before this is nothing like them!
No passwords required, stock performer scrapes data from your browser session, so you just log in to your agencies as you would do normally and Stockperformer does the rest in the background.

Hosted service, there's no software to install except for a browser plugin, currently supports Firefox, Chrome and Safari.

Simple learning curve, it just imports your lightboxes/galleries/sets from each agency (except Fotolia lightboxes?). You don't need to learn another tool to manage image groups, if you already have organized your images into groups at the agencies then there is no further 'leg work' to do.

So what can I do with it?
The analysis interface is split into main sections:

"Overview" provides real time stats on your most recent sales, charts of overall sales across your entire portfolio.

"Top Sales" lets you see a matrix of top selling image revenue and download volume by agency per day, week, month, quarter or annually.

"Collections" is a listing that lets you see at a glance which groups of images at which agencies are good sellers and which are "lessons learned".

Clicking an image in any section brings you to an image details page: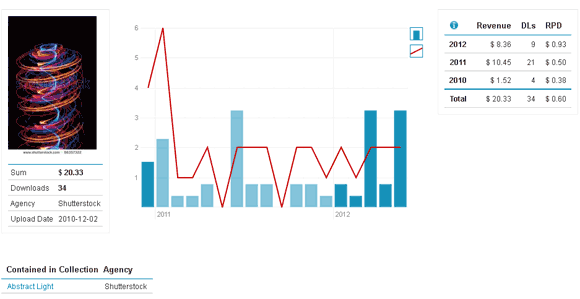 Collections is by far the most interesting feature of the product (for me). If you have already used shutterstock's "catalog manager" then you will already know the power this feature has. You can see Downloads, Revenue, STR , RPD and RPI for each collection and then view collection details, where you can easily sort images by each relevant value:

Typical image collection page: (squashed a little to fit)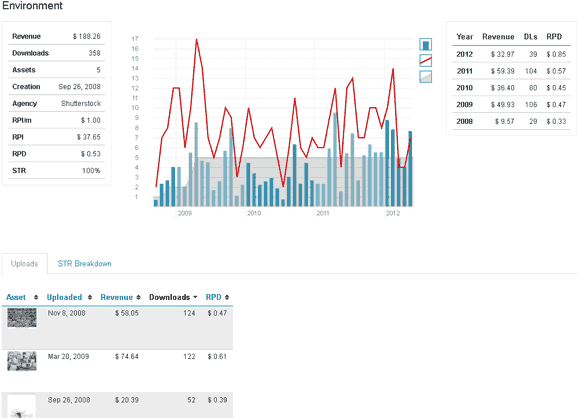 The Stockperformer blog has some great ideas to get started with Analysis of Collections and goes into more details on some of the things you can learn. The blog also has some other great posts including "How to best select your Exclusive+ and Photo+ Files" and "Understanding Microstock Metrics" (glossary explanation).
Conclusion
It's almost flawless! I had a bit of a glitch with Fotolias Lightboxes/Collections and some of Fotolia's stats (no data from Feb 2007 until Jan 12…) and of course that old Fotolia spanner is still thrown in: not being able to separate free earnings from paid ones; this skews some statistics but it won't affect everyone, and it's certainly not stockperformers fault!

It's all very very slick! Well thought out, and best of all it's simple to use.
Update: August 2013
Stock performer now supports 8 Agencies: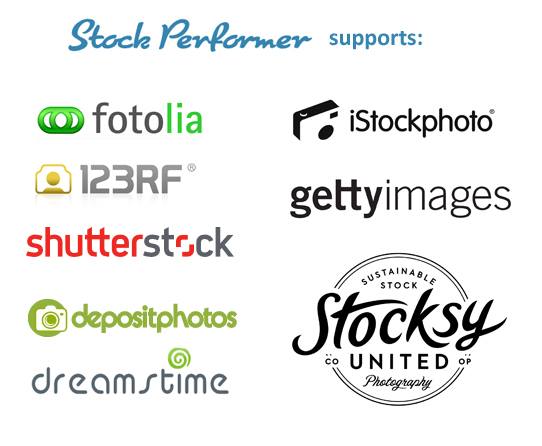 Find out more about stockperformer and the free trail on their website, or follow them on Facebook or Twitter.